SkinLock Tattoo Hydrogel Kit
SKU SLOCK-HYDRO
Ei varastossa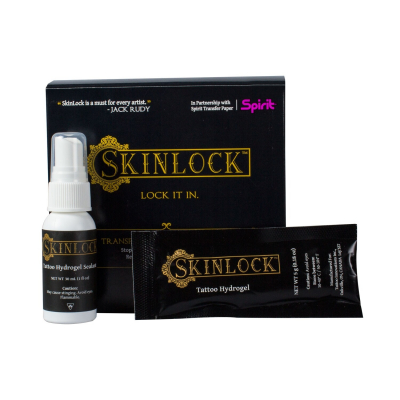 SkinLock is a liquid tattoo sealant which instantly locks in your ink and protects the integrity of your fresh tattoo. With one spray, SkinLock replaces all of those messy bandages and plastic wraps. Don't compromise your ink... protect it from the start with SkinLock.
Once the new tattoo is completed, apply a thin layer of SkinLock followed by 1-2 pumps of SkinLock Sealant Spray. The spray should be misted and not sprayed directly. It will take approximately a minute to dry.
Here is a demonstration of how it works:
SkinLock stays on the skin for 2-3 hours and then it can be washed off with warm water. After this, normal aftercare procedures apply.
Here are a few benefits of using SkinLock:
Eliminates potential scabbing and ink loss
Absorbs blood and exudate
Allows the tattoo to breathe
The customer can see their tattoo
Petroleum free and Vegan friendly!
Great for those difficult to dress areas with cling film/bandages such as hands and elbows.
The Skinlock Kit contains 24 x 5g Hydrogel foil packs and 1 x 30ml (1oz) bottle of sealant, which is sufficient to cover all 24 packs.
N.B: A mild, stinging sensation will occur temporarily as the antiseptic alcohol establishes a clean, antimicrobial environment for proper healing.
Toimitus
Kaikki arkipäivisin, ennen kello 16:00 tulleet tilaukset käsitellään ja lähetetään samana päivänä. Rahdin hinta vaihtelee tilattavan paketin koosta ja painosta riippuen. Hinnat alk. 9,95€ UPS n seuraavan päivän toimitus.
Takuu
Klikkaa tästä nähdäksesi palautustiedot.