Skull Shoppe- Elderly Male Asian
SKU SKULL-SM
Ei varastossa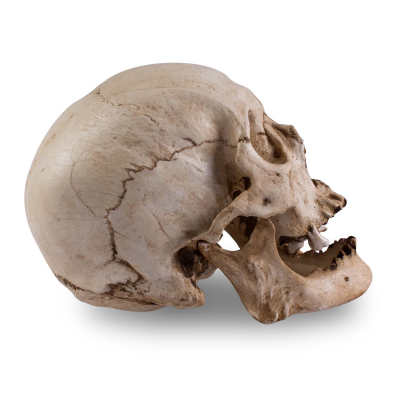 Killer Ink are delighted to be official distributors of Skull Shoppe's replica Skulls.
The skulls are perfect as a studio decoration, a tattoo, drawing and painting reference and for practical jokes!
Elderly Asian Male. This amazing replica is hand finished in natural bone color with detachable jaw. Model features a through nasal passage with septum details and mandible can be removed and replaced without hardware. Mandible has natural movement.
Superior Fissure, Optic Foramen and Inferior Orbital Fissure have pass through. Also, pass through between Sphenoid Bone and Zygomatic Arch. Natural opening at Foramen Magnum.
Measurements approx. (cm): H: 17 W: 14 L: 22
Toimitus
Kaikki arkipäivisin, ennen kello 16:00 tulleet tilaukset käsitellään ja lähetetään samana päivänä. Rahdin hinta vaihtelee tilattavan paketin koosta ja painosta riippuen. Hinnat alk. 9,95€ UPS n seuraavan päivän toimitus.
Takuu
Klikkaa tästä nähdäksesi palautustiedot.