Spektra Halo2 Crossover Body in Tangerine
SKU SPEK-HAL2CR-BODY-TANGER
Varastossa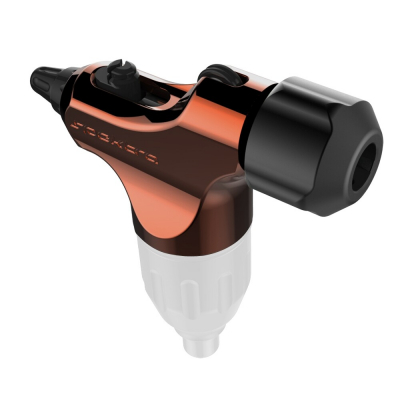 Spektra Halo2 Crossover Body in Tangerine. This is the machine body only and does not contain the Motorbolt. The complete machine with the Motorbolt is also available.
The one machine that handles it all! The Spektra Halo2 Crossover in Black has been designed to push cartridges as well as standard needles. The Floating Collet Vice System on the Halo2 Crossover allows you to use any grip on the market: screw on grips and grips with a traditional backstem, so you can use it for cartridge grips as well as grips for standard tattoo needles. It has never been easier to change from cartridges to standard needles!
Key Features:
Needle Clip-On and Stabilizer System: no need for grommets.
Adjustable stroke with three preset locking strokes: You can go from 2.8mm to 4mm with ease.
Adjustable give, optimised for flawless response with cartridges and standard needles alike.
Up to 4mm of give travel
Floating Collet Vice System that allows artists to use any grip in the market: Screw on grips as well as standard grips

Slip-on StrokeWheel MotorBolt style is compatible with Halo 1 Motors

Comes with 4mm and 3.4mm StrokeWheels with redesigned cams for optimum torque and even less vibration.

You can use the Halo2 with the same Motorbolt as used on the Spektra Edge X and Spektra Direkt if you remove the Hex Spinner and install the cam.
Made in the USA
Toimitus
Kaikki arkipäivisin, ennen kello 16:00 tulleet tilaukset käsitellään ja lähetetään samana päivänä. Rahdin hinta vaihtelee tilattavan paketin koosta ja painosta riippuen. Hinnat alk. 9,95€ UPS n seuraavan päivän toimitus.
Takuu
Klikkaa tästä nähdäksesi palautustiedot.