VENOM PS2 Power Supply - Made in Lithuania (Europe)
SKU POW-VENOM-EU
Varastossa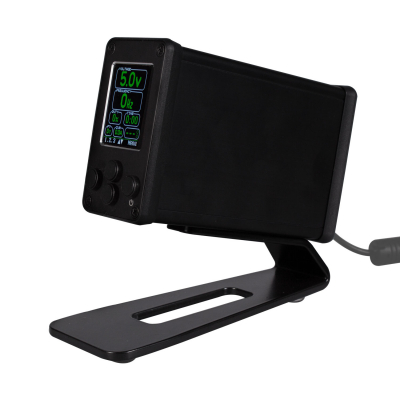 Killer Ink are pleased to present to you the new VENOM PS2 Power Supply! The smartest power supply ever produced.
The VENOM PS2 allows you to connect two machines simultaneously and selecting which machine to run by pressing a button.
It also features a 'Machine Analyser', which works like an oscilloscope to show you the value of current with all peak values on the colour display. Perfect for machine builders!
Using rotaries? The VENOM PS2 has a 'Rotary Mode', which smoothly accelerates the machine motor, prolonging the life of it. It is also the only power supply in the world that measures and displays rotary speed (hits per second).
Other Key Features:
Display: Volts (with 0.1v increments), Hertz (Hz), Duty Cycle (%), Follow Through (FT), Amps.
Colour graphics display with more than 10 background and text colours to choose from. Fonts can also be changed.
Fully adjustable browsing speed and sound options.
Create your own unique style of display and save it to one of three memories.
Up to 10 machine programs can be stored for every machine input.
Three pedal modes: Momentary, Trigger and 'No pedal' (pressing a button on the power supply to run).
Timers: Active and Total.
Languages: English, Russian.
Laser engraved front and rear panels.
Includes stand and magnet.
Anodised black aluminium body.
Only 830g, including the adapter!
Made in Europe with a 1 Year warranty.
Technical Data:
Dimensions: Height (with stand): 13cm, Length: 15cm, Width 6cm
Output power: 1,5-20V / 3 A
Maximum DC output current - 3A, peaks up to 5A
Toimitus
Kaikki arkipäivisin, ennen kello 16:00 tulleet tilaukset käsitellään ja lähetetään samana päivänä. Rahdin hinta vaihtelee tilattavan paketin koosta ja painosta riippuen. Hinnat alk. 9,95€ UPS n seuraavan päivän toimitus.
Takuu
Klikkaa tästä nähdäksesi palautustiedot.