Box of 10 Stigma-Rotary® Advanced Needle Cartridges - ROUND SHADERS
SKU 10-STIG-RS
Varastossa
Vain %1 jäljellä
Hinta alk
21,00 €
17,50 €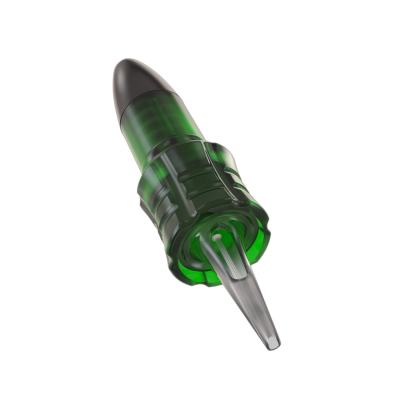 The Stigma cartridges are designed with safety in mind. They feature an external sealing cap, to prevent any leak through to the grip and machine. When connected with a Stigma grip, this forms a dual seal, so the cartridge seals completely with the grip at the connecting spot. The umbrella trap design prevents ink / blood from splattering over the cartridge sides. The ergonomically designed shape of the cartridge will allow you to comfortably grip on to the cartridge if you prefer, so further down than you normally would, for the ultimate control.
The external sealing cap also provides another key benefit. Due to the thickness and elasticity of the rubber material it is made from, the external sealing cap also acts as a dampening system, providing a natural 5%~10% give. This is optimal not only for shading, but also for lining. With just a little give, shading becomes smoother and lines become crisper than they would have without any give, enhancing your tattooing experience.
All these benefits are making these cartridges safer than ever to use, so you can concentrate clearly on tattooing!
Are Stigma cartridges compatible with Cheyenne style / RPG Click cartridge grips? No, Stigma cartridges are unique and will only fit in to a Stigma grip.

Can I use Stigma cartridges with my none Stigma machines? Yes, there are a few different options depending what machine you use. Stigma® have created a Universal-Screw-On connection clickable grip, which can be screwed directly on to the likes of Cheyenne or Spektra machines, where the needle depth can be adjusted by clicking clockwise or anti-clockwise. There are also universal Stigma® grips with backstems for traditional vice systems, where the needle depth can also be adjusted by clicking clockwise or anti-clockwise. These can also be used in conjunction with a Universal-Screw-On vice adapter, to enable you to connect these grips up to Universal-Screw-On connections featured on the likes of Cheyenne or Spektra machines.
Toimitus
Kaikki arkipäivisin, ennen kello 16:00 tulleet tilaukset käsitellään ja lähetetään samana päivänä. Rahdin hinta vaihtelee tilattavan paketin koosta ja painosta riippuen. Hinnat alk. 9,95€ UPS n seuraavan päivän toimitus.
Takuu
Klikkaa tästä nähdäksesi palautustiedot.