Box of 50 KWADRON Needles 0.35MM LONG TAPER - Empty Round Liner
SKU KW35ERLLT
Ei varastossa
Vain %1 jäljellä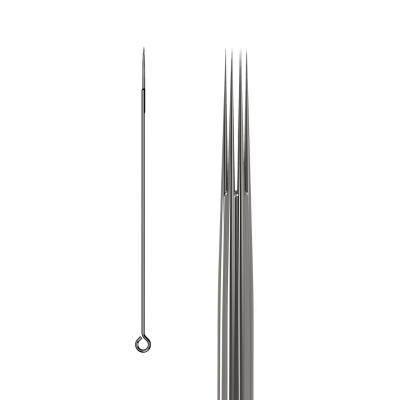 Kwadron are undoubtedly the most impressive tattoo needles available in the market.
We are proud to present a best-in-class product, truly outstanding compared to many other brands of needles.
Each configuration includes the same razor-sharp, flexible and long taper needles of improved strength, grouped together with the highest possible precision.
90% of needles available in the market are simple products made of soft steel that bend and deform easily. The quality of the soldering also leaves a lot to be desired. The movement of the needle causes strong friction that ordinary needles are unable to withstand. The needle loses sharpness and releases metal shavings and dust that get under the skin and may pose a health risk. The outcome is less than stellar and it takes weeks for the skin to heal completely.
What we offer are perfectly configured and soldered needles of finest quality. We can guarantee that in every box you buy each needle will be equally great – the accurately grouped sharp needles will bring comfort to your work and help you achieve best possible results.
The quality and reliability of our product is appreciated by many renowned tattoo artists. Don't wait to try out the needles used by the best professionals of the industry.
Available diameters: 0.25, 0.30, 0.35, 0.40mm and also textured needles are available.
Technical Data:
Taper length - 7mm
An Empty Round Liner means that the middle needle is missing to achieve more ink flow for long and bold lines.
Toimitus
Kaikki arkipäivisin, ennen kello 16:00 tulleet tilaukset käsitellään ja lähetetään samana päivänä. Rahdin hinta vaihtelee tilattavan paketin koosta ja painosta riippuen. Hinnat alk. 9,95€ UPS n seuraavan päivän toimitus.
Takuu
Klikkaa tästä nähdäksesi palautustiedot.