BKiller Ink steriili kertakäyttö värikuppialusta 70kpl
SKU KI-DISPINKTRAY
Varastossa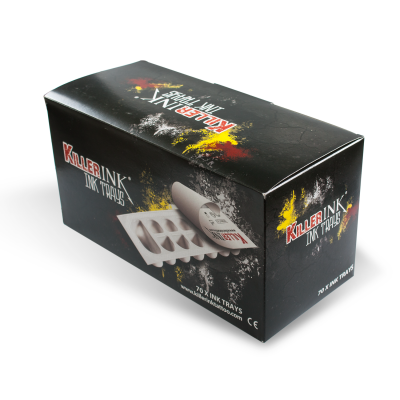 Box of 70 Killer Ink sterile disposable ink trays.
The box features an easy access area at the side, so you can easily pull out an ink tray each time you require one. Each tray has 2 large caps at each end and in the centre features 10 smaller size caps.
2x Large Caps: Approx 30mm long x 15mm wide x 15mm deep.
10x Small Caps: Approx 15mm long x 15mm wide x 15mm deep.
Made in Germany.
Toimitus
Kaikki arkipäivisin, ennen kello 16:00 tulleet tilaukset käsitellään ja lähetetään samana päivänä. Rahdin hinta vaihtelee tilattavan paketin koosta ja painosta riippuen. Hinnat alk. 9,95€ UPS n seuraavan päivän toimitus.
Takuu
Klikkaa tästä nähdäksesi palautustiedot.