FK Irons Darklab: Airbolt Mini RCA Battery Pack - Black
SKU FK-AIRBOLT-MINI-BLK
Varastossa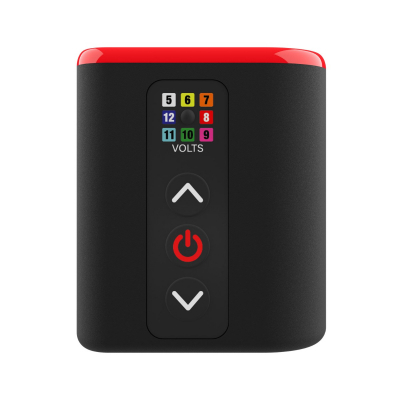 The Darklab Airbolt Mini battery pack from FK Irons is a compact, portable power supply that allows you to use your choice of RCA cables without the need to plug it into the mains supply. Depending on the voltage and cartridges used, the Airbolt Mini will keep your tattoo machine running for up to 10 hours.
Thanks to its intuitive controls and LED voltage display, the Airbolt Mini is easy to use, while Bluetooth connectivity allows it to be paired with the Darklab app for ultimate wireless control. Artists can also use the Preset Bank within the app to create unlimited presets for the Airbolt Mini that will offer an abundance of possibilities during each tattooing session. In addition, you can use the Airbolt Mini with the Darklab app via Bluetooth for voice control, eGive capabilities and future firmware updates.
The compact shape of the Darklab Airbolt Mini means that it is easy to bag or barrier protect during tattooing. It's also easy to take with you when travelling to guest spots and conventions due to its light weight of just 96 g, while a built-in, anti-slip magnetic pad will ensure that it won't fall off your workstation.
The DarkLab Airbolt Mini houses a lithium-ion battery with a USB-C connection, which provides fast charging speeds of up to 1.0 A. The inclusion of Dynamic Power-Path Management allows for simultaneous battery charging and power delivery. The higher energy density provided ensured high reliability and stability during use.
This portable battery pack from Darklab offers a voltage range between 5 and 12 V, adjustable in 0.5 V increments/decrements. It also has an automatic jumpstart feature for tattoo machines that need a bit of extra power to get going.
Key Features:
Colour: Black
Compact, portable power supply
Up to 10 hours of battery life
RCA connection
Intuitive controls and LED voltage display
Bluetooth connectivity - pair with Darklab app for presets, voice control, eGive, and future firmware updates
Easy to bag or barrier protect and travel-friendly
Built-in, anti-slip magnetic pad
Li-ion battery with USB-C connection and Dynamic Power-Path Management
Output Voltage: 5-12 V - adjustable in 0.5 V increments/decrements
Maximum output current: 1.0 A
Automatic jumpstart feature
Dimensions (H x W x D): 55.6 x 48 x 24 mm
Weight: 80 g
Lisätietoja
Toimitus
Kaikki arkipäivisin, ennen kello 16:00 tulleet tilaukset käsitellään ja lähetetään samana päivänä. Rahdin hinta vaihtelee tilattavan paketin koosta ja painosta riippuen. Hinnat alk. 9,95€ UPS n seuraavan päivän toimitus.
Takuu
Klikkaa tästä nähdäksesi palautustiedot.