DarkLab: Delta Footswitch MUSTA
SKU FK-DELTA-FSWITCH/BLK
Varastossa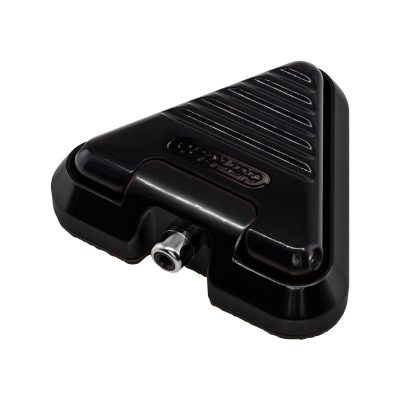 FK Irons Dark Lab heavy duty precision footswitch. The very first footswitch was engineered to sustain your entire tattooing career, and its guaranteed for life!!
Key Features
Built to last.
Portable and lightweight, ideal for use in your studio and to travel with.
Machined from Aircraft Grade Aluminum and anodized for durability.
Super responsive thanks to the internal dual springs and hinge system.
Anti-Skid pad keeps the pedal firmly in its place. No more chasing your footswitch.
RCA Ready. Simply plug a fresh RCA cord and you'll be ready to go. This eliminates issues with faulty cables that used to cause the whole unit to go bad. If cable fails, simply replace it with a new one.
Proudly engineered, manufactured and assembled in the USA by FK Irons.
Guaranteed for LIFE!
NB: An RCA Cable is required to run this footswitch. This is not included with your purchase.
Toimitus
Kaikki arkipäivisin, ennen kello 16:00 tulleet tilaukset käsitellään ja lähetetään samana päivänä. Rahdin hinta vaihtelee tilattavan paketin koosta ja painosta riippuen. Hinnat alk. 9,95€ UPS n seuraavan päivän toimitus.
Takuu
Klikkaa tästä nähdäksesi palautustiedot.