FK Irons ONE Wireless Tattoo Machine - Charcoal / Ruby
SKU FK-THEONE-BLKRED
Ei varastossa
Vain %1 jäljellä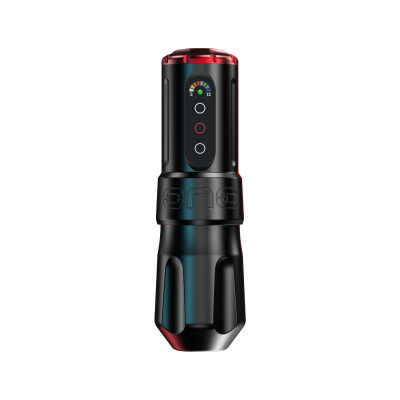 The ONE is a high-quality, dependable and affordable wireless tattoo machine for artists at all stages of their career, made by the experts at FK Irons.
FK Irons' ONE is powered by a rechargeable and replaceable Panasonic NCR 18500A battery, offering 5-12 V of power for up to 8 hours - depending on voltage used and cartridge size - with adjustments in 0.5 V increments.
The proprietary quarter-turn battery hatch is easy to open, allowing you to replace the battery quickly with no fiddly threading system. The ruby cap also has a battery disconnect feature - turn the cap anti-clockwise to prevent unwanted power use. The batteries are charged through the supplied dual slot eFest battery charger, meaning you can always have a backup battery ready and waiting.
The simple display has an LED colour-coded voltage indicator and is controlled by three simple buttons - two for increasing and decreasing voltage, and one to turn the power on or off. Half increments are indicated with a flashing coloured LED.
Manufactured from medical- and aerospace-grade 6061 T6 aluminium, the ONE comes in a matte charcoal finish with a distinctive ruby end cap. The chunky grip has an ergonomic shape including larger grooves to prevent rolling and enhance comfort while working, and is compatible with all universal Cheyenne-type cartridges and modular FK grips.
The FK Irons ONE is supplied with a high-quality travel case with custom-cut protective foam, making it perfect for guest spots and conventions, and with the battery disconnect feature it won't accidentally turn on while travelling. It is available with either a 3 or 4 mm fixed stroke length - please select the stroke length you require.
Key Features:
Colour: Charcoal / Ruby
Comes with 2x Panasonic NCR 18500A rechargeable and replaceable batteries
Completely wireless operation
Offers up to 8 hours of battery life
Voltage: 5-12 V, adjustable in 0.5 V increments/decrements
Three button control (up, down, power)
eFest Dual Battery charging dock with cord
Click-grip ratchet needle adjustment
LED voltage indicator
Battery disconnect
Compatible with universal, Cheyenne-type cartridges
Material: 6061 T6 aluminium
Stroke length: 3.0 or 4.0 mm
Diameter: 38 mm
Length: 134 mm
Weight: 227 g
Includes a high-quality travel case with custom-cut protective foam
Designed, engineered and manufactured in the USA
Toimitus
Kaikki arkipäivisin, ennen kello 16:00 tulleet tilaukset käsitellään ja lähetetään samana päivänä. Rahdin hinta vaihtelee tilattavan paketin koosta ja painosta riippuen. Hinnat alk. 9,95€ UPS n seuraavan päivän toimitus.
Takuu
Klikkaa tästä nähdäksesi palautustiedot.