Killer Ink Anti-Bacterial Foaming Cleanse 200ml
SKU KI200-CLEANSE
Varastossa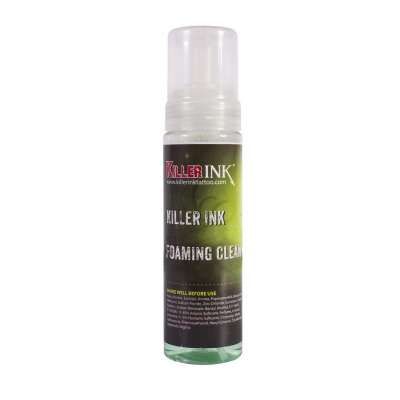 Killer Ink Anti-Bacterial Foaming Cleanse can be used throughout the tattooing process to wipe away excess ink. However it is primarily used at the end of the tattoo to clean it up before applying your aftercare and wrapping it up. The Anti-Bacterial Foaming Cleanse is gentle to skin and will foam up on application. It calms and moisturizes the skin and reduces redness.
Key Features:
Toimitus
Kaikki arkipäivisin, ennen kello 16:00 tulleet tilaukset käsitellään ja lähetetään samana päivänä. Rahdin hinta vaihtelee tilattavan paketin koosta ja painosta riippuen. Hinnat alk. 9,95€ UPS n seuraavan päivän toimitus.
Takuu
Klikkaa tästä nähdäksesi palautustiedot.