Killer Ink Convention Kit Artist's Pack
SKU CONVENTION-KIT-UK
Varastossa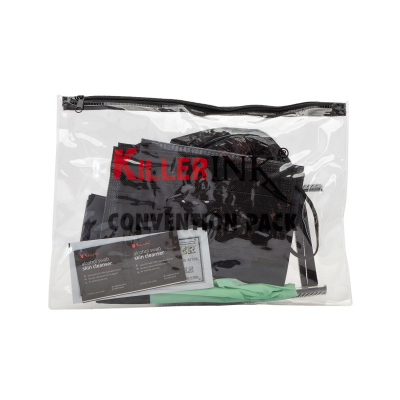 The Killer Ink convention kit contains the essentials for a travelling artist to any convention. The artist pack contains the following:
5x Black Lapcloths
1x Apron
5x Clipcord Sleeves
5x Machine Bags
1x Arm Sleeve
2x Surgical Masks
20x Mixed Ink Cups (5x 9MM, 10x 11MM, 5x 14MM)
1x 0.25g Hustle Butter Packette
2x Unigloves Razors
2x Alcowipes
Toimitus
Kaikki arkipäivisin, ennen kello 16:00 tulleet tilaukset käsitellään ja lähetetään samana päivänä. Rahdin hinta vaihtelee tilattavan paketin koosta ja painosta riippuen. Hinnat alk. 9,95€ UPS n seuraavan päivän toimitus.
Takuu
Klikkaa tästä nähdäksesi palautustiedot.