Killer Ink Tattoo Transfer Carbon Paper
SKU KILLER
Ei varastossa
Vain %1 jäljellä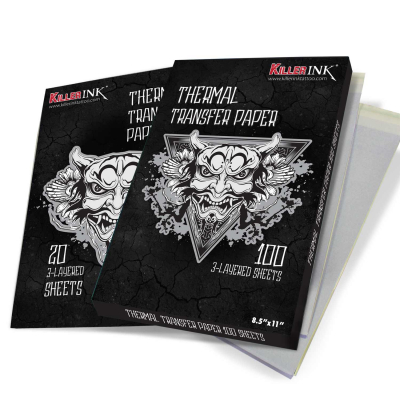 The Killer Ink tattoo transfer paper is 3-layered, with a protective layer for the carbon. It is primarily used with thermal transfer machines, such as the Brother Pockjet printer, but can also be used to hand draw designs on to the carbon paper using a pen.
If hand drawing, simply remove the protective tracing sheet and with a pencil or ball point pen, you can then draw your design on to the yellow side of the 3 layered transfer sheet. When drawing your design, the carbon will be pushed through on to the bottom layer of transfer sheet.
Please select the quantity you require.
Toimitus
Kaikki arkipäivisin, ennen kello 16:00 tulleet tilaukset käsitellään ja lähetetään samana päivänä. Rahdin hinta vaihtelee tilattavan paketin koosta ja painosta riippuen. Hinnat alk. 9,95€ UPS n seuraavan päivän toimitus.
Takuu
Klikkaa tästä nähdäksesi palautustiedot.