25 Mixed kertakäyttö grippi / 19mm gripit ja valmiiksi pakatut Killer Ink Precision neulat
SKU 25-19MM-12MIXED
Varastossa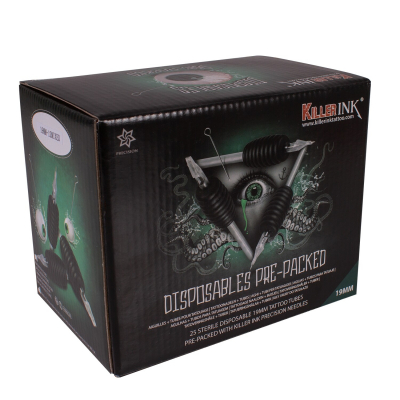 Box of 25 mixed sterile Killer Ink kertakäyttö, valmiiksi pakatut, steriilit gripit Killer Ink Precision tatuointi neuloilla. Valmiiksi pakattu ja ideaalisesti yhteensopiva neula grippi yhdistelmä sopii kaikille konetyypeille . Säästä aikaa, rahaa ja hermoja!
The mixed box contains:
10x 12RL/03 needles in diamond tubes
5x 12RS/05 needles in round tubes
5x 12M1/09 needles in flat tubes
5x 12RM/13 needles in flat tubes
Tekniset tiedot
Tipin tyyppi: Round, Diamond, Flat
Gripin halkaisija (mm): 19
Neulan tyyppis: 12RL - Round Liner, 12RS - Round Shader, 12M1 - Magnum Weaved, 12RM - Round (Curved) Magnum
Neulan halkaisija (mm): 0.35
Taper (mm): M1 + RM = 3.0, RS = 3.2, RL = 5.5 (tight)
Toimitus
Kaikki arkipäivisin, ennen kello 16:00 tulleet tilaukset käsitellään ja lähetetään samana päivänä. Rahdin hinta vaihtelee tilattavan paketin koosta ja painosta riippuen. Hinnat alk. 9,95€ UPS n seuraavan päivän toimitus.
Takuu
Klikkaa tästä nähdäksesi palautustiedot.