Neotat Original Tattoo Machine in Blue
SKU NEOTAT-BLU
Varastossa
Vain %1 jäljellä
318,00 €
Hinta alk
302,10 €
251,75 €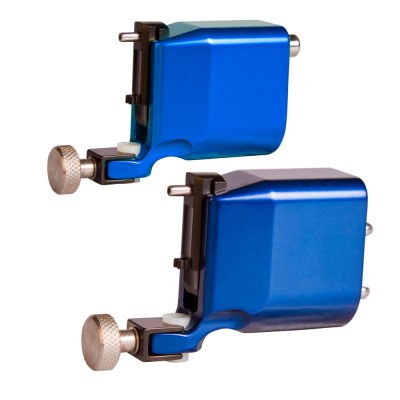 Neotat machines are consistent, smooth running rotary tattoo machines that have a unique mechanism that produces a perfectly straight linear motion.
Short Stroke length is 1.8mm. This machine is good for those artists who like running a short stroking machine and works well for light shading in tattoo work and also a favorite in permanent cosmetics for producing the smudgy effect.
Standard Stroke length is 2.5mm. This machine is a good all-round tool for doing both lining and shading work.
Long Stroke length is 3.5mm. This machine is the choice for those artists who like a long running machine. This is the most powerful in the series and it really packs in the colour.
Each machine weighs only 5.6oz (approx. 160g); the lighter weight, ergonomic design and low level of vibration help to cut down on the fatigue typically experienced with long tattoo sessions.
Easy to disassemble and clean, Neotat machines allow you to spend less time on your machines, and more time tattooing. Maintenance is minimal - oiling is required after every 200 hours of use and machine comes with a guide clip as standard, which holds the needle bar in place, thus eliminating the need for rubber bands for this purpose.
Key Features
Quiet operation
Low Vibration
Efficient - low power consumption
Guide Clip - eliminates the need for rubber bands
Autoclavable machine body
Ergonomic & well-balanced
Compatability: All Standard needles, tubes and most power supplies
Low maintenance
Technical Data
Weight: 5.6oz / 160g
Billet machined from 6061 alloy aluminium
Please select the stroke length and connection type you require.
Toimitus
Kaikki arkipäivisin, ennen kello 16:00 tulleet tilaukset käsitellään ja lähetetään samana päivänä. Rahdin hinta vaihtelee tilattavan paketin koosta ja painosta riippuen. Hinnat alk. 9,95€ UPS n seuraavan päivän toimitus.
Takuu
Klikkaa tästä nähdäksesi palautustiedot.
You might be interested in a cable?