Tatuointikone paketti: III - Edistynyt
SKU TAT-KIT-003EU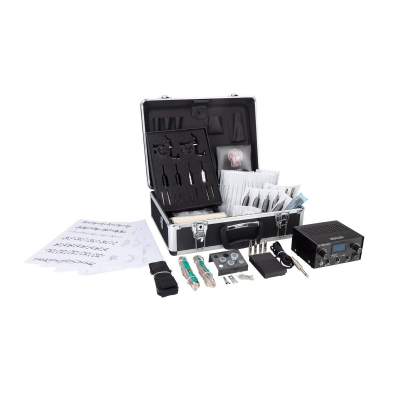 What you are viewing is a professional tattoo kit at a great value price. If you're interested in permanent tattooing, this apprentice advanced kit is perfect to train alongside an professional tattoo artist with and is ideal for when you are entering in to the final stages of your apprenticeship. The kit is fully loaded with all you'll ever need to start practicing tattooing, including two tattoo machines, so theres no need to keep changing setups on each tattoo machine for when you need to switch between lining and shading. If you have never tattooed professionally before, we urge that an extensive training course or apprenticeship is taken place before work is attempted on real skin. We sell practice skin which is great to practice the art of tattooing on, and you can also practice on the likes of fruit etc. Killer Ink do not condone any tattooing on real human skin unless done so by a registered tattoo artist, who is registered at a licensed premises in accordance with all relevant laws.
NB: Please do not mistake our kits with inferior ones, which contain dangerous uncertified ink and unsterilised needles.
The kit comes complete with two great running machines, the Ripcurl and Black Widow III tattoo machines, which can be set for both lining and shading. The tattoo machines are hand tuned in our workshop before despatch, which can be hooked straight up to the ultra-steady high quality Mercury digital power supply.
Tattoo Kits Contents
Mercury Dual Input Digital Power Supply
Tattoo Machines: 2 - can be used for both lining and shading
Tattoo Ink Holder
Tattoo Ink: 1x Kuro Sumi Japanese Tattoo Ink - Outlining Black 180ml
Practice Skin: 1
Aluminium Grips: 2
316 Stainless Steel Grips: 2
316 Stainless Steel Backstem Tubes: 4
Clip Cord
Foot Pedal
Ink Cups: 100 Mixed
Tattoo Needles: 50 (15x RL3, 15x RL5, 10x RS3, 10x RS5)
316 Stainless Steel Tips: 4 (R3, R5, F5, F7)
Disposable 19mm Grip / Tip Combination: 10 (5x R3, 5x R5)
Disposable Tips: 10 (3x R3, 3x R5, 2x F5, 2x F7)
Tip Brush: 1
Contact Springs: 2 Sets
Weight (kg): 5
Comes complete in light-weight aluminium carry-case with tutorial DVD and ten tattoo photographs for design ideas.
We recommend you take advantage of the practice skin bundle offer above, where you get a discounted price when buying more than one.
Additional accessories such as larger tattoo ink sets, tattoo needles and different tattoo practice skins are available. Please browse through Killer Ink Tattoo's online megastore to find more great offers on our wide range of tattoo supplies.
Toimitus
Kaikki arkipäivisin, ennen kello 16:00 tulleet tilaukset käsitellään ja lähetetään samana päivänä. Rahdin hinta vaihtelee tilattavan paketin koosta ja painosta riippuen. Hinnat alk. 9,95€ UPS n seuraavan päivän toimitus.
Takuu
Klikkaa tästä nähdäksesi palautustiedot.