Spektra Flux Wireless Tattoo Machine - Chromium
SKU SPEK-FLUX-CHROM
Varastossa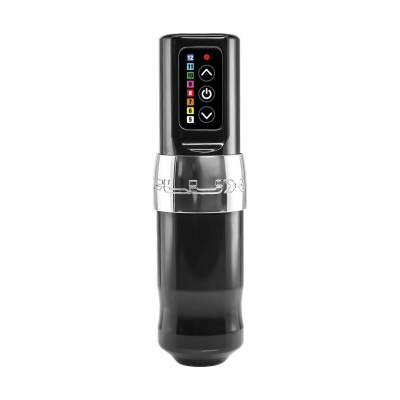 The Spektra Flux follows on from the popular Xion rotary and marks the first wireless tattoo machine from the guys behind FK Irons and DarkLab.
Powering the Spektra Flux is a detachable battery known as a PowerBolt, which allows artists to run their machine wirelessly without the need for cables or power supplies. As it's interchangeable, you can quickly and easily switch to an auxilliary battery (sold separately) when the charge runs out, so you can keep working with no problems.
The PowerBolt contains a lithium-ion battery with a USB-C connection and Dynamic Power-Path Management, which allows for simultaneous battery charging and power delivery. It offers fast charging speeds of up to 1.5 Amps and a run time lasting up to 10 hours, depending on the type of cartridge and voltage used. In addition, the higher energy density of the PowerBolt provides reliability and stability.
As well as featuring a battery capacity and voltage LED indicator, the PowerBolt has three buttons: one to turn the Spektra Flux on/off and two to adjust the voltage quickly and easily. Press the up and down arrows to change the voltage of the Spektra Flux in 0.5 V increments or decrements from 5 to 12 V, with the colour of the LED corresponding to the voltage chart on the PowerBolt.
The PowerBolt also offers the ability to 'killswitch' the machine, which stops the Spektra Flux from being switched on accidentally - helpful for when travelling with the rotary by flight.
The Spektra Flux is Bluetooth-enabled, which means that you can pair it with DarkLab's Hover power supply and app. You can use the DarkLab app to wirelessly update the Flux with the latest firmware, making it future-proof.
Spektra Rotary's Flux is a direct drive tattoo machine that offers no give and a 4 mm stroke, which means it excels in lining, shading and colour packing. It is also very quiet when running and creates minimal vibration.
This version of the Spektra Flux comes with one PowerBolt. We also offer the Spektra Flux with an additional PowerBolt.
Please note, do not use an ultrasonic cleaner with this product.
Key Features:
Colour: Chromium
Comes with x1 PowerBolt
Wireless - no cables of power supplies needed
Interchangeable battery
USB-C Li-ion battery with Dynamic Power-Path Management
Battery capacity and voltage LED indicator
Voltage: 5-12 V, adjustable in 0.5 V increments/decrements
Fast charging speeds of up to 1.5 A
Up to 10 hours running time
Bluetooth-enabled - can be paired with DarkLab Hover power supply and app
Future-proof - wireless firmware updates via app
Direct drive with 4 mm stroke
Weight: 181 g
Made in the USA
Toimitus
Kaikki arkipäivisin, ennen kello 16:00 tulleet tilaukset käsitellään ja lähetetään samana päivänä. Rahdin hinta vaihtelee tilattavan paketin koosta ja painosta riippuen. Hinnat alk. 9,95€ UPS n seuraavan päivän toimitus.
Takuu
Klikkaa tästä nähdäksesi palautustiedot.
You might be interested in a cable?