Stigma-Rotary® Spear 2.0 Tattoo Machine - Red
SKU STIG-SPEAR2-RED
Varastossa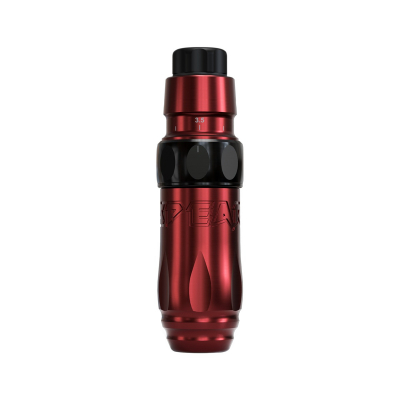 The updated Stigma-Rotary® Spear 2.0 tattoo machine allows artists to explore a wide range of styles and techniques in their work with the utmost control.
Stigma®'s Spear 2.0 comes with a custom-made 8 Watt motor that operates at voltages as low as 4 V. The first Spear machine was well-known for its easily adjustable give, and the 2.0 builds on this by also including an adjustable stroke length and needle depth. Adjustments can be made even while the machine is running, making this a highly adaptable piece of equipment.
The Stigma® Spear 2.0 has an ergonomic shape, with an anti-roll design built into the body to prevent it from rolling off your workstation, and a gold-plated protected RCA socket for reliable power management. Combined with the low vibration of the machine, these factors make for a more comfortable, effortless session of tattooing, for both artist and client.
The Stigma-Rotary® Spear 2.0 is compatible with universal, Cheyenne-type needle cartridges. Please note that the tattoo machine is not compatible with Stigma®'s Advanced Safety Cartridges.
Key Features:
Colour: Red
Suitable for lining, shading and colour packing
Custom-made 8 W motor
Suggested voltage range: 4-10 V
Suggested frequency range: 55-160 Hz
Steplessly adjustable give, stroke length and needle depth
Stroke length: 2.5-4.5 mm
Needle depth: 0-4.5 mm
Ergonomic shape with anti-roll design
Gold-plated, protected RCA socket
Compatible with universal, Cheyenne-type needle cartridges
Length: 112 mm
Weight: 165 g
Toimitus
Kaikki arkipäivisin, ennen kello 16:00 tulleet tilaukset käsitellään ja lähetetään samana päivänä. Rahdin hinta vaihtelee tilattavan paketin koosta ja painosta riippuen. Hinnat alk. 9,95€ UPS n seuraavan päivän toimitus.
Takuu
Klikkaa tästä nähdäksesi palautustiedot.
You might be interested in a cable?