Studex Plus Instrument Kit with Display Stand and 18 Pairs of Studs
SKU EAR-PRC-KIT-DIS
Varastossa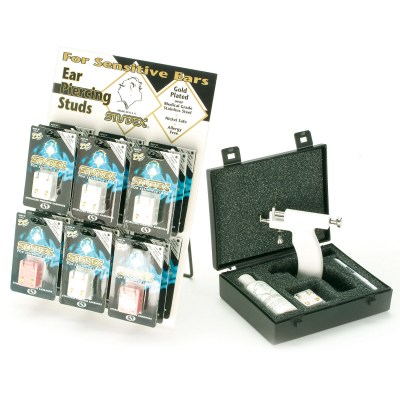 Studex Plus Instrument Kit with Display is a traditional cartridge based ear piercing system. It uses the Studex ear piercing studs, which are pre-sterilised, hypoallergenic. The studs are loaded directly from the sterilised packaging into the ear piercing instrument. The ear lobe is pierced in 1/10th of a second, which minimises discomfort and promotes proper healing. The Studex Kit comes with eighteen pairs of ear piercing studs.
Key Features:
Spring Action Ear Piercing Instrument

18 Pairs of Studex ear piercing studs on a display stand

Marking pen

Protective carry case

Bottle of After Piercing Solution
Toimitus
Kaikki arkipäivisin, ennen kello 16:00 tulleet tilaukset käsitellään ja lähetetään samana päivänä. Rahdin hinta vaihtelee tilattavan paketin koosta ja painosta riippuen. Hinnat alk. 9,95€ UPS n seuraavan päivän toimitus.
Takuu
Klikkaa tästä nähdäksesi palautustiedot.