Tombow Dual Brush Pen
SKU TBOW
Varastossa
Vain %1 jäljellä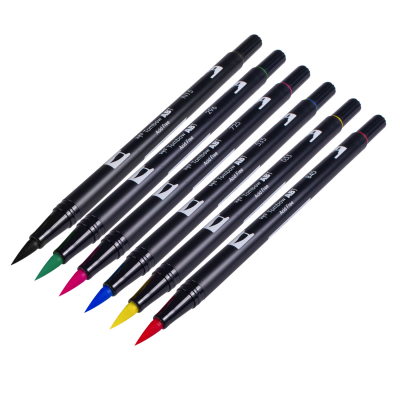 The Tombow Dual Brush Pen is a marker with two tips: the fine tip can be used for the thin lines on your stencil. The second tip is thicker and can be used for colouring in larger areas. Both tips are connected to the same reservoir, so you will not notice any difference in colour between the two tips. The Tombow Dual Brush Pens are water-based and are odourless, non-bleed, non-toxic and acid free. They are available in:
Black
Carmine
Cobalt Blue
Green
Process Yellow
Rhodamine Red
Please select a colour in the dropdown menu.
Toimitus
Kaikki arkipäivisin, ennen kello 16:00 tulleet tilaukset käsitellään ja lähetetään samana päivänä. Rahdin hinta vaihtelee tilattavan paketin koosta ja painosta riippuen. Hinnat alk. 9,95€ UPS n seuraavan päivän toimitus.
Takuu
Klikkaa tästä nähdäksesi palautustiedot.