World Famous Limitless Tattoo Ink - Pink Ribbon Set - 12x 30 ml
SKU LTPRST1
Varastossa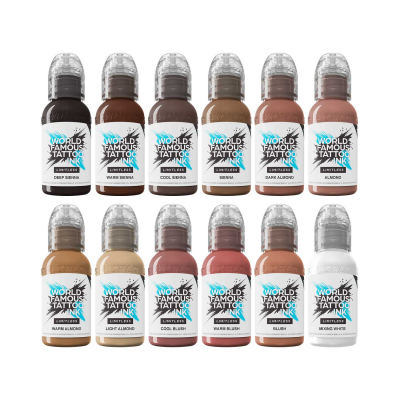 The World Famous Limitless Pink Ribbon Set contains the following colours:
Almond
Blush
Cool Blush
Cool Sienna
Dark Almond
Deep Sienna
Light Almond
Mixing White
Sienna
Warm Almond
Warm Blush
Warm Sienna
The World Famous Limitless Pink Ribbon Set is a diverse collection of flesh tone inks suitable for areola restoration tattoos as well as creating colour realism work which uses skin tones.
World Famous Ink is committed to being at the forefront in terms of compliancy with regulations across the globe. As a global manufacturer, the new EU REACH regulations for World Famous Ink was an opportunity to create a new ink line that exceeds regulatory standards to have an updated world market compliant product.
Key Features:
Volume: 12x 30 ml
Vegan-friendly and cruelty-free
Fully complies with the latest EU REACH regulations
Made in the USA

Toimitus
Kaikki arkipäivisin, ennen kello 16:00 tulleet tilaukset käsitellään ja lähetetään samana päivänä. Rahdin hinta vaihtelee tilattavan paketin koosta ja painosta riippuen. Hinnat alk. 9,95€ UPS n seuraavan päivän toimitus.
Takuu
Klikkaa tästä nähdäksesi palautustiedot.