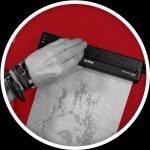 How to Use a Thermal Printer for Tattoo Stencils
July 30, 2020

July 30, 2020

fi

https://www.killerinktattoo.fi/skin/frontend/killer/default/images/logo.svg

https://www.killerinktattoo.fi/
Killer Ink had the pleasure to welcome UK tattoo artist Paul Talbot to our studio to discuss how to use a thermal printer for tattoo stencils.
While he was here, Paul answered some frequently asked questions regarding creating tattoo stencils with your Brother printer, as well as troubleshooting some common issues that artists face.
Make sure to watch our video with Paul Talbot and Brother Printers below to learn just how to use a thermal printer for your tattoo stencils, along with some other tattooing tips from Paul!