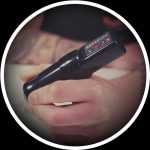 Spektra Flux Wireless Tattoo Machine – First Look
March 12, 2020

March 12, 2020

fi

https://www.killerinktattoo.fi/skin/frontend/killer/default/images/logo.svg

https://www.killerinktattoo.fi/
In our latest video review, we give you a first look at the new Spektra Flux wireless tattoo machine.
The Flux is Spektra's latest rotary machine, following on from the Xion, and is set to bring a wireless revolution to the tattooing industry.
By featuring a detachable battery, known as a PowerBolt, the Flux can be run wirelessly without the need for cables or power supplies.
Made in the USA by the guys behind DarkLab and FK Irons, the Flux is set to be an exciting addition to Spektra's range of rotaries and we can't wait for it to be released!
Make sure to watch our video below to hear our first impressions of the Spektra Flux!