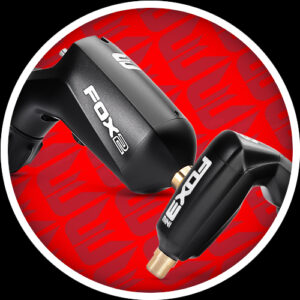 Equaliser Fox Tattoo Machines
The Equaliser Fox tattoo machines from KWADRON are some of the most popular rotaries around today, with many artists around the world running a Fox Mini or Fox Big as part of their set-up.
As demand for the two Equaliser Fox machines grows ever stronger, KWADRON continues to update the rotaries with new features and the latest parts.
Read on to find out just what the latest versions of the Equaliser Fox Mini V3 and Fox Big V2 have to offer tattoo artists.
Equaliser Fox Mini V3
After the great success of the first- and second-generation Equaliser Fox Mini tattoo machines, KWADRON set about to further modernise the V3 model with a new, refreshed design
Compared to the previous versions, the Equaliser Fox Mini V3 offers an interchangeable stroke length, making it more versatile than ever before. The V3 rotary comes with 3 excenters and can be quickly changed by unscrewing 2 screws and swapping them out.
The Equaliser Fox Mini V3 also comes with 4 drive bars to allow tattoo artists to mount practically any grip on the market, whether disposable or reusable and with or without the collar.
While there may be some new changes, one thing that remains unchanged is the strong, durable and trouble-free 4.5-Watt motor within - it works brilliantly in both previous models and the updated V3 machine!
With a combination of high power, low weight and the ability to adjust all machine parameters, the versatile Equaliser Fox Mini V3 is an ideal rotary tattoo machine for all artists, no matter their style or technique.
Equaliser Fox Big V2
The second-generation Equaliser Fox Big tattoo machine has received a huge makeover from KWADRON, both inside and out.
Unlike the previous model, the Equaliser Fox Big V2 now offers adjustable stroke length from 1 to 5 mm, making the rotary more versatile than ever before.
Artists can now use both traditional tattoo needles and Cheyenne-type cartridges with the Fox Big V2, as well as disposable and reusable grips, with or without a collar. For those using traditional needles, the machine comes with a thick, reusable O-ring to stabilise the needle, which is more durable and effective than using rubber bands.
KWADRON has fitted the Equaliser Fox Big V2 with a durable 10-Watt motor - a newer version of the one featured in the Fox Big V1 - to ensure that the rotary machine is suitable for all styles
To round things off, the sleek design of the Equaliser Fox Big V2 comprises a CNC-machined, aircraft-grade aluminium frame with anodised colour and an RCA connection.
Whichever Equaliser Fox tattoo machine you choose, you can be sure that it will be a great addition to your workstation for years to come!